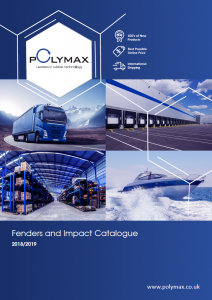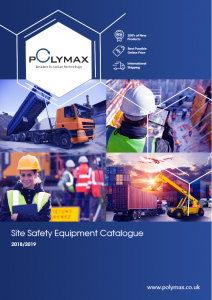 As the company updates its resources we've updated our site safety and fender product range with over 200 new products. Every item featured is available to buy online with full pricing and technical drawings. Best of all, we are releasing a brand new product catalogue for each section, packed with all the information you need to make a hassle free purchase.
Every section has been updated so check your favourite items and see if we've added new products. In a hurry? Here are some of the highlights.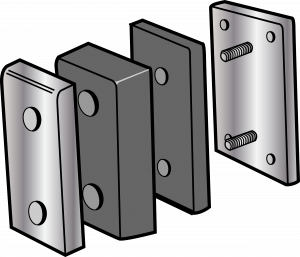 HGV Accessories
We now stock 11 dock bumper variations, including all of the replacement parts and accessories to match. Primarily used in loading bays, dock bumpers protect walls from heavy and repetitive impact. We also offer small rubber bumpers that can be attached directly to the vehicle to protect the metalwork.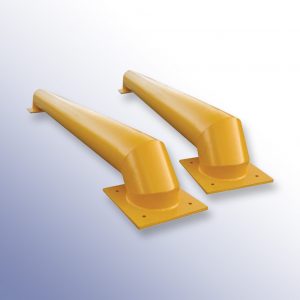 To compliment our new dock bumper range we have also included a new line of wheel guides. Sold in pairs, these galvanised steel fenders help HGV drivers line up their vehicles when backing up into parking spaces or loading bays. They act as a barrier whilst gently manoeuvring the vehicle into the correct position.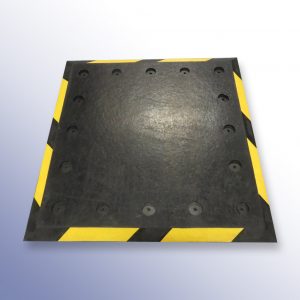 Trailer plates provide a stable and secure surface to rest unmounted trailers. The trailer landing legs stand on the trailer plate protecting the floor from repetitive heavy loads. They are available in two materials, a durable Tyrecord Hi-Fibre rubber or a high visibility UHMWPU (ultra-high molecular weight polyurethane) material.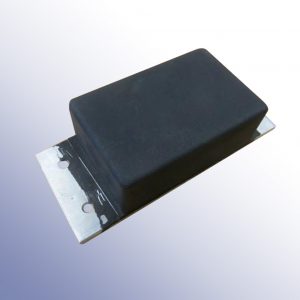 We now offer a large collection of tipper pads that are designed to withstand heavy and repetitive loads, protecting the bodywork of the vehicle whilst dampening excessive noise whilst tipping. They are constructed in a very similar way to our DM shock mounts. Available in both aluminium and stainless steel.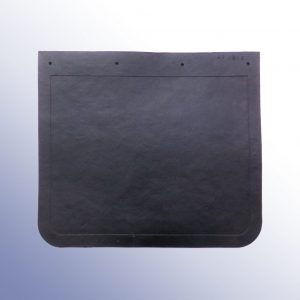 Over 30 sizes of premium quality mud flaps available to purchase online. They are fabricated using the TPX Hi-Fibre compound with nylon or rayon reinforcing fibres. There is an additional printing service available which is priced according to the required graphics. You can choose between screen printed or moulded/raised into the trailer flap in a choice of colours: white, red, green yellow or orange.

Cable Protectors
Our simple drop over cable protector suitable for pedestrian and light vehicle traffic are now available in black or yellow LPDE plastic. A more economical alternative to the typical polyurethane material in the range.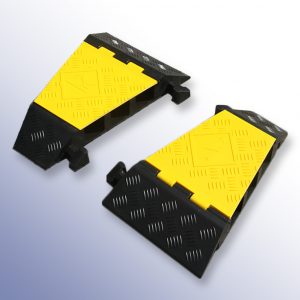 We now offer left and right corner sections for our most popular MPC cable protector. The best temporary cable management solution suitable for indoor or outdoor use, the MPC protector will provide a safe ramp for heavy pedestrian traffic and vehicles 3.1 tonnes and over (check item specific maximum loads for more information).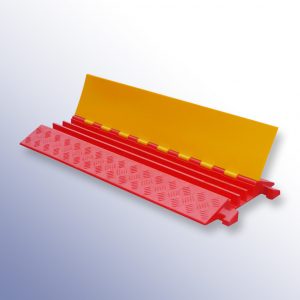 The polyurethane MPC protector will provide a safe ramp for heavy pedestrian traffic and vehicles up to 40 tonnes. With a high visibility colour to prevent the tripping hazard and the anti-slip textured surface for maximum grip underfoot.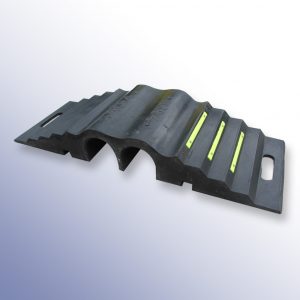 Polymax hose ramps are designed to protect cables and hoses for pedestrian or light road traffic. They are ideal as a temporary or semi-permanent solution with built in high visibility strips to warn against tripping hazards and to help slow down traffic.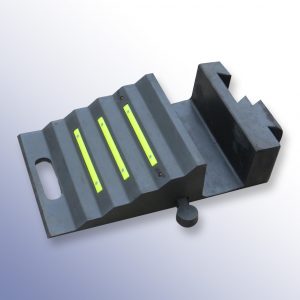 This modular design fits together to create a number of channels required.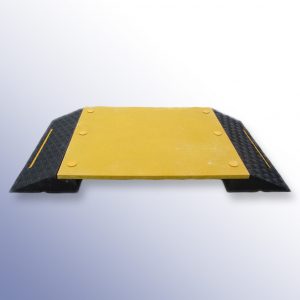 This pedestrian ramp allows a safe passage across multiple hoses and ramps. Featuring a high visibility strip and bright yellow anti-slip gritted surface to warn and prevent against the potential tripping hazard. The unit is delivered assembled and can be joined to additional units using the connectors at the side of the product.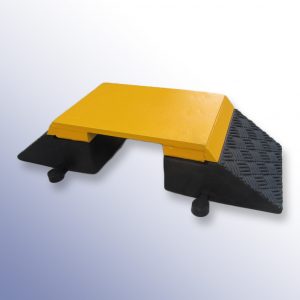 For heavy goods vehicle traffic up to 80 tonnes, our HGV cable and hose ramps feature a singular channel and come in two sizes. The smaller steel topped ramp is suitable for hoses up to 105mm in diameter, whereas the larger yellow topped design can hold hoses and cables up to 150mm. This is an extremely durable and heavy duty product made from a hardwearing rubber base and thick galvanised steel top.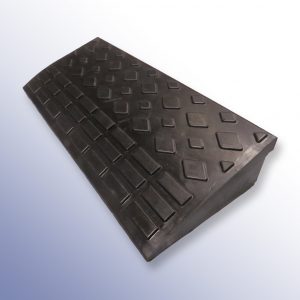 This simple yet effective ramp can be installed next to any kerb approximately 100mm in height. It is made from a good quality SBR/NR rubber compound what has been cored out to reduce the weight of the item. Moulded with an anti-slip pattern to provide additional grip.

Rubber Bumpers
Made from a hardwearing blend of SBR/NR rubber, these buffer stops come in two sizes as standard. Can be fitted to the desired surface via the two counter sunk drill-holes. Suitable for protecting against harsh impacts in a range of applications such as on boats, lorries, and sliding doors.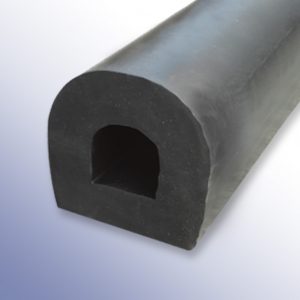 EPDM rubber has an excellent resistance to weathering, ozone, water and steam, with good performance in castor and some phosphate ester based fluids. Unlike the alternative SBR/NR blends these fenders are non-marking so will offer the best protection for your vessel without staining.
*All our D-Fenders are now available to buy online!*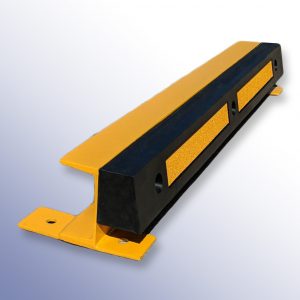 When a rubber wheel stop is not enough protection we recommend considering our steel mounted kerbs. This is a premium product with an 8mm thick galvanised steel base bolted directly to the tarmac or concrete. The tough rubber bumper has recessed yellow glass bead tape for better visibility.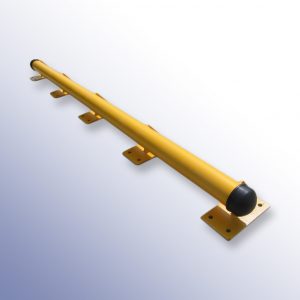 For the most comprehensive protection our steel kerb will make the vehicle come to a complete stand still. Good for car parks and trailer bays in logistics centres. Yellow powder coating that will endure a relative amount of impact without scuffing or scratching.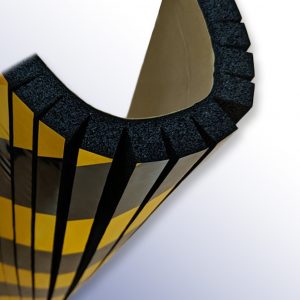 High Visibility Protection
We've got a new range of EVA foam protectors which are adhesive backed for easy application.  There is a corner protector, pole protector and straight wall protector.

Finally, these high-quality reflective tapes come in 45 metre rolls and are suitable for use on any dry and clean surface. The hexagon design reflects natural light but is most effective to vehicle or torch beams. They can be used to warn about hazardous areas, highlight areas or direct traffic. Available in yellow or silver, 25mm or 50mm width.
That's not all, click through to the Site Safety and Fender categories now to find the other new products. We hope you enjoy these new updates as we roll them out across the whole site, watch this space, keep up to date on our socials or sign up to our newsletter and be the first to receive the new catalogue.