CORONAVIRUS RESPONSE
In light of the COVID-19 outbreak, Polymax has seen an increase in demand for supplies for manufacturing medical equipment. We can provide components suitable for use in the manufacture of ventilator machines and PPE face shields.
Silicone Diaphragm Material
Rubber Gaskets - Cut to Shape
Machine Feet (Screw-on and Stick-on)
Silicone, Viton and Nitrile O-Rings
Adhesive Backed Foam
Silicone Sponge
O-Rings for Ventilators
Polymax can supply O-rings for ventilator machines available in Silicone, PTFE and Nitrile. Our O-rings are available in a variety of sizes, shore hardnesses and materials. Additionally, certain polymers are able to meet specifications suitable for medical, pharmaceutical and food grades such as FDA, WRAS, USP Class VI, NSF and more. We hold a large stock of O-ring in our UK warehouse and are able to meet short deadlines. Contact us regarding your specific application requirements with free advice from one of our experts on 01420 472000. O-Rings for Ventilators
Tubing for Ventilators
Platinum silicone tubing according to FDA, WRAS and NSF specifications. Large range of sizes available suitable for pneumatic and fluid transfer applications. We are able to meet various specifications and requirements please contact us for more information on 01420 550597.
Silicone Tubing for Ventilators
Straps for PPE Face Sheilds
Manufacturers are designing PPE face shields using 60ShA solid silicone for the straps. We can offer materials meeting FDA specifications sold by the metre suitable for laser or CND cutting. Polymax offers an in-house fabrication service to create custom gaskets or strips. Furthermore, we have introduced a new material the SILSURE Antimicrobial Silicone. This compound has been independently tested and proven to inhibit bacterial growth.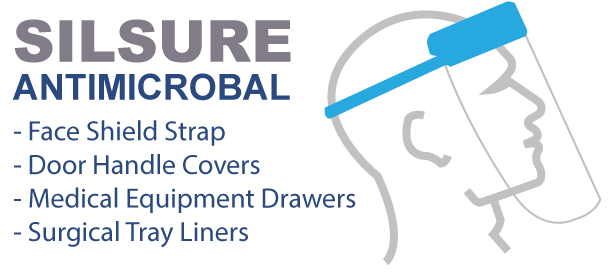 In-House Fabrication Service for Gaskets and Strips
SILSURE Antimicrobial Silicone Material
Sponge for PPE Face Shields
We also sell FDA approved sponge suitable for padding the inside of face shields for comfort strips. Other non-FDA options include our ready-made silicone foam strips or our adhesive-backed neoprene foam.
Please contact us if you require any advice from our sales engineers, we are here to help. Call 01420 550597 or email sales@polymax.co.uk.