Over the years we've realised our products can be used for pretty much anything. Whilst we might supply our products with a general purpose in mind, it's always fascinating to hear how our customers have used them in unpredictable ways. So to continue our unusual uses blog series, we've collected the weird and wonderful ways our customers have utilised our rubber cord.
Fixing Primary Chain Case Oil Leaks
Firstly, a niche problem for vintage motorbike enthusiasts. Older motorcycle models use a primary chain that connects the engine to the transmission. Since it requires a good amount of oil lubricant, the primary chain case encloses the chain and oil. This can be problematic as the seal can become worn over time resulting in oil leakage. A review left by an anonymous customer detailed how they sealed the primary chain case on their 1953 Norton 'Dominator'. They used trail and error for the correct size and ended up fitting our Neoprene Sponge Cord 12mm Diameter. In their own words getting an oil tight seal was "No mean achievement" - Great work!
From motorbikes to tricycles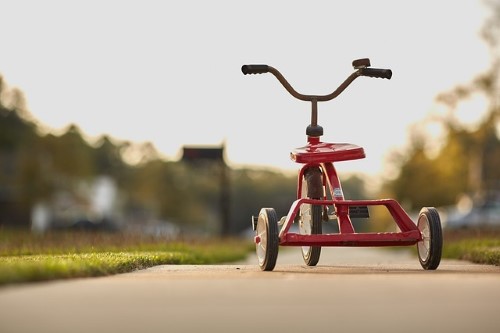 Renovating a very different type of bike, this customer discovered that our EPDM 70 Shore rubber cord can be used to replace a children's bike tyre.
Summary: Well worth the phone call
Review: This was purchased after taking advice from the sales team. It was decided to be suitable to use as the front solid 'tyre' to a 40 year old child's tricycle. I had little knowledge and the advice was easy honest and straight forward without being patronising. The product has done what was wanted. Can't fault the product or the company. Many thanks.
Thank you for the review. Due to the bonded natural of this example,  the right adhesive is key to ensuring durability. Visit our cord adhesives page for the suitable glue for your material.
Sponge Cord for Miniature Modelling
Coming now to the crafting community, one reviewer uses our Silicone Sponge Cord for miniature modelling. The aptly nicknamed 'Model Maker' wrote, "A hard to find material that has lots of uses for miniature modellers. It's strong flexible and available in various diameters, and in short lengths". We're happy we could help.
Cord for Polymer Clay Jewellery Making
Another crafty sort, 'Dianne' left us a comment about the best cord for polymer clay jewellery. Due to the clays weight, it requires a strong cord to hold the jewellery. Dianne found our 3mm NBR rubber cord is a great choice for flexibility and comfort, with many diameters available to work with your jewellery design.
Cord for Fixing Floorboard Drafts
Last but not least in our sponge cord uses, this very practical solution to floor board drafts. Charlotte Triggs contacted us with her experience of restoring her Cornish cottage floorboards. After uncovering the original boards it became clear that they required a lot of TLC, yet their unique characteristics made the renovation efforts worthwhile. The problem Charlotte faced was that the gaps between the floorboards were too wide. As a result, many specialists suggested removing the boards altogether. Losing the original character of the floorboards was not an option. So, after some research Charlotte discovered our website and found that our Neoprene Sponge Cord was the perfect economic solution to floorboard drafts. Thank you for sharing your story with us Charlotte. You can read her full article here.
So that's it for our unusual picks this week! Have you used one of our products in an unusual way? Perhaps as part of a creative solution to an everyday problem? We'd love to feature you on our blog, email us at feedback@polymax.co.uk or message our Facebook page to get involved.