Difference between MQ, VMQ, PMQ and FVMQ
Silicone rubber is known by several terms which can lead to misinterpretation. Firstly, the ISO (International Organisation for Standardisation) uses the abbreviations of MQ, VMQ, PMQ and FVMQ. Conversely, ASTM (American Society of Testing and Materials) uses its own designations of GE, FC, FE and FK. For this reason, we will explain the structural differences indicated by these terms and the unique properties they provide.
Silicone is the preferred material for use with food, medical and aerospace industries due to its great flexibility, thermal stability, low toxicity, resistance to oxygen, ozone and UV, as well resistance to microbiological growth. It offers the widest temperature range of all O-ring materials from -55°C to 200°C as standard, with specially compounded versions ranging from -115°C to +232°C.

MQ Silicone O-rings
Starting with the simplest form MQ, (GE for ASTM) or methyl silicone. As illustrated in the image below, the molecular structure contains repeat units of oxygen which enables the materials superb resistance to ozone, UV and weathering.Typically, this form of silicone rubber is not commonly used and requires processing to improve its elastomeric properties.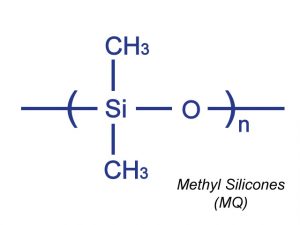 VMQ Silicone O-rings
For this reason, replacing the methyl groups with vinyl groups results in the standard O-ring material VMQ, (FE for ASTM) or vinyl methyl silicone. VMQ offers an impressive temperature range and improved compression set, yet exhibits a poor tensile strength.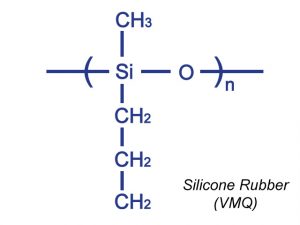 PMQ or PVMQ Silicone O-rings
Comparatively, replacing the methyl groups with phenyl groups allows the silicone to withstand drastically lower temperatures. PVMQ, (FC for ASTM) phenyl modified silicones exhibit a lower temperature resistance by almost 100°C, with a working service temperature of -177°C. Once again, it's not common to use silicone without vinyl groups but the process can also apply to MQ creating PMQ.
Fluorosilicone or FVMQ O-rings
Finally, like other elastomers fluorinating the compound results in stronger bonds improving chemical resistance. FVMQ, (FK for ASTM) or fluorosilicones contain trifluoropropyl groups next to the methyl groups. While the mechanical and physical properties are similar to VMQ, there is an improvement to fuel and mineral oil resistance. However, hot air resistance is poor in comparison to standard silicone.
ISO vs. ASTM Datasheets
Whilst there are similarities between the test standards ISO and ASTM cannot be directly compared. Due to key differences such as prestressing the material, using different test methods or recording data in alternative units. In 2011, ISO and ASTM international signed an agreement to collaborate on the approach, publication and distribution of additive manufacturing materials - typically used in 3D printing materials. It's a possibility we will see further partnerships between the two organisations to create consolidated standards.
In the meantime, we're here to help! Contact our friendly sales team with your O-ring enquiries for the best advice. Our O-ring hotline is 01420 472000. Otherwise, feel free to browse over 30,000 O-ring combinations and buy online today.